System Status
---
You can relax knowing we are monitoring your infrastructure 24/7.
If there's an outage, we already know about it
---
The best customer service is the one you don't need to use.
Rest assured we are already fixing it from minute one.
Extended System Status
The amount of information we provide about the infrastructure used for your service could be used by an attacker to know the effectiveness of the attack. To prevent this from happening, every client has access to a unique URL to view the infrastructure of any subscribed services.

STATUS AND UPTIME
The infrastructure and related background tasks associated with your service are checked every single minute to make sure everything is online.

CPU USAGE
Track the current, average, and maximum CPU usage within the selected period. Make sure the CPU of the physical machine is never the bottleneck.

AVERAGE RESPONSIVE TIME
Know the responsive time from up to 9 locations. Make sure everyone in the world can access your site. Determine if there are issues in a specific area.

INFRASTRUCTURE
Get the full picture with transparency. Get to know what is going on behind the scenes of your service. Go back in time up to 4 months.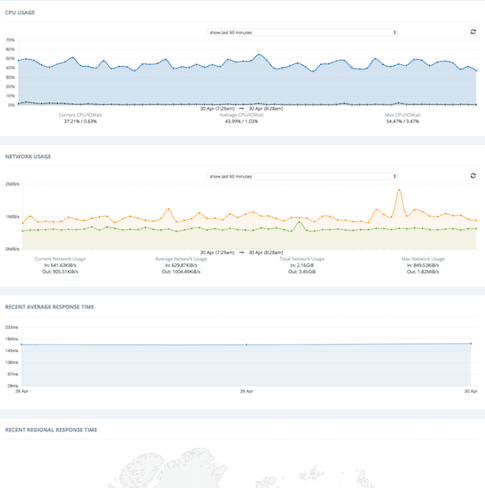 GET STARTED WITH A CLOUD SERVER YOU CAN TRUST